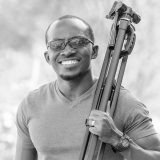 Jason J Mulikita is a Zambian editorial and commercial photographer based in Lusaka. Over the last 11 years, he has undertaken a range of assignments for local and international corporates and NGOs to deliver high-quality photography and short documentary videos. He has extensively travelled Zambia and the Africa continent on various development shoots for clients such as the University of Florida, Sightsavers, Roger Federer Foundation, CARE International, Clinton Health Access Initiative and the United Nations and its agencies.
His work has featured on TV, billboards, websites, magazines and other publications. Check out his portfolios on National Geographic and iStock — where some of his photos are available for sale.
Being so passionate about the art of photography, Jason takes time to train and mentor upcoming photographers through private workshops across the country, and at the Zambia Institute of Fine Arts in conjunction with the Zambia Institute of Mass Communication.
Clients worked for
Some of the clients I've shot for…
| United Nations and its Agencies – UNICEF, UNDP, WFP, UNAIDS, ILO and UNESCO
| Sightsavers International
| Roger Federer Foundation
| Save the Children
| Clinton Health Access Initiative
| Sishemo Foundation
| Society for Family Health, Zambia
| CARE International
| The Africa List
| University of Florida
| Australia Awards
| Orbis International
| BancABC/Atlas Mara
| Zambia Bureau of Standards
| National Council for Contruction, Zambia
| The Global Fund to Fight AIDS, TB & Malaria
Countries worked in
Countries I've shot in…
| Zambia
| India
| Mozambique
| Malawi
| Tanzania & Zanzibar
| Botswana
| Uganda
| United Kingdom
| Namibia
| South Africa
| Zimbabwe
| Kenya
| United Arab Emirates
© Copyright 2009-2023, Jason J Mulikita